ASU Football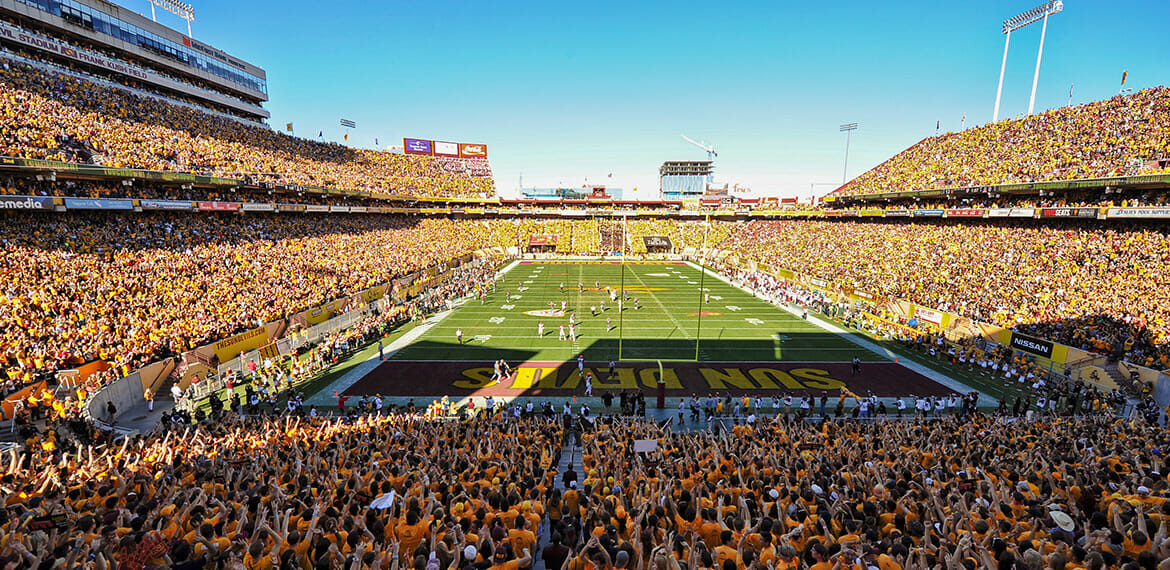 This fall, make plans to attend one of ASU's action-packed football games at the legendary Sun Devil Stadium.
Excitement is building for the 2017 college football season. The Arizona State University (ASU) Sun Devils will meet up with some strong teams in Tempe this year. Start your ASU pregame early at one of ASU's tailgating parties! Need info about where to park for an ASU game? There's all sorts of parking options near Sun Devil Stadium.
While you're in Tempe for a game, be sure to check out our event calendar. There's always something happening in this college town.
Phases I and II of a three phase renovation of Sun Devil Stadium were completed in fall 2016. All of the renovations are scheduled to be completed in 2018. There are a variety of upgraded amenities to enhance the fan experience such as better views from the stands, increased airflow in the concourse, WiFi, more legroom and more concessions and restrooms on the north, south and west sides of the stadium. And, new this season, fans will get to see the brand new video board on the north end of the stadium. It measures over 47 feet tall by 113 feet wide.
And, while you're here in Tempe, make time for even more fun. Meet up with other fans at local sports bars. Get outside and explore the hiking and biking trails throughout the city. Go boating on Tempe Town Lake. Or, simply relax poolside at a nearby Tempe hotel. Check out the list below of hotels located within 2 miles of the stadium.
ASU FOOTBALL 2017 HOME SCHEDULE: 
Sun Devil Stadium / 480-727-0000
thesundevils.com
ASU vs. New Mexico State – August 31, 2017
ASU vs. San Diego State – September 9, 2017
ASU vs. Oregon – September 23, 2017
ASU vs. Washington – October 14, 2017
ASU vs. USC – October 28, 2017
ASU vs. Colorado – November 4, 2017
ASU vs. Arizona – November 25, 2017
Sports Bars in Tempe
Tempe has a great variety of local watering holes and nearby attractions to check out before and after the games. From local sports bars right here in Tempe to nationally known favorites to well-loved brew pubs, fans will have no shortage of places to celebrate a big win from their team. Outdoor activities such as hiking, biking and boating as well as indoor activities such as shopping, bowling and museum strolling are all within minutes of the stadium.
Need some ideas for how to spend your day in Tempe? Check out some itinerary ideas.
Buffalo Wild Wings
705 S. Rural Rd. #104, Tempe, AZ 85281
480-858-9464
C.A.S.A. Sun Ba
5 E. 6th St., Tempe, AZ 85281
480-557-8226
Dave & Buster's
2000 E. Rio Salado Pkwy., Tempe, AZ 85281
480-281-8456
Devil's Advocate Sports Grill
955 E. University Dr., Tempe, AZ 85281
480-921-2585
Dierks Bentley's Whiskey Row
640 S. Mill Ave. #120, Tempe, AZ 85281
480-794-1477
El Hefe Super Macho Taqueria
640 S. Mill Ave. #110, Tempe, AZ 85281
480-257-2797
Fat Tuesday
680 S. Mill Ave. #106, Tempe, AZ 85281
480-967-3917
Four Peaks Brewing Company
1340 E. 8th St. #104, Tempe, AZ 85281
480-303-9967
Gordon Biersch Brewery Restaurant
420 S. Mill Ave. #201, Tempe, AZ 85281
480-736-0033
Gringo Star
501 S. Mill Ave. #101, Tempe, AZ 85281
480-306-8633
The Handlebar Tempe
680 S. Mill Ave. #109, Tempe, AZ 85281
480-474-4888
Loco Patron
222 S. Mill Ave. #115, Tempe, AZ 85281
480-699-0922
Macayo's Depot Cantina Restaurant
300 S. Ash Ave., Tempe, AZ 85281
480-966-6677
Mad Hatter Brew Pub
502 S. College Ave., Tempe, AZ 85281
480-967-5353

Pedal Haus Brewery 
Centerpoint on Mill, 730 S. Mill Ave. #102, Tempe, AZ 85281
480-314-2337
Philly's Sports Bar & Grill
1826 N. Scottsdale Rd., Tempe, AZ 85281
480-946-6666
Tapacubo – located at the Graduate Tempe Hotel
225 E. Apache Blvd., Tempe, Arizona 85281
480-387-5915
Thirsty Lion Pub & Grill – Tempe Marketplace
2000 E. Rio Salado Pkwy. #1041, Tempe, AZ 85281
480-968-2920
Vine Tavern and Eatery
801 E. Apache Blvd., Tempe, AZ 85281
480-894-2662
Zipps Sports Grill
690 S. Mill Ave. #103, Tempe, AZ 85281
480-404-7255
Tempe hotels near ASU Sun Devil Stadium
AC Hotel Phoenix/Tempe Downtown – 1.1 miles away
100 E Rio Salado Pkwy, Tempe, AZ 85281
480-642-6140
Airport Quality Inn Tempe/ASU – 1.0 mile away
1375 E. University Dr., Tempe, AZ 85281
480-774-2500
aloft Tempe – 1.5 miles away
951 E. Playa Del Norte Dr., Tempe, AZ 85281
1-888-625-4946
1-877-782-0103
Baymont Inn & Suites Tempe Phoenix Airport – 1.3 miles away
808 N. Scottsdale Rd., Tempe, AZ 85281
480-858-9898
Best Western Inn of Tempe – 1.2 miles away
670 N. Scottsdale Rd., Tempe, AZ 85281
800-784-2811
Courtyard Tempe Downtown – 0.6 mile away
601 S. Ash Ave., Tempe, AZ 85281
800-228-9290
Graduate Tempe – 1.3 miles away
225 E. Apache Blvd., Tempe, AZ 85281
480-967-9431
Hampton Inn & Suites Phoenix/Tempe-ASU Area – 2.0 miles away
1415 N. Scottsdale Rd., Tempe, AZ 85281
480-941-3441
Hilton Garden Inn Phoenix Tempe ASU Area – 2.6 miles away
2102 E. Rio Salado Pkwy., Tempe, AZ 85281
480-968-2180
Holiday Inn Express & Suites Phoenix Tempe University – 1.1 miles away
1031 E. Apache Blvd., Tempe, AZ 85281
480-966-7202
Homewood Suites by Hilton Phoenix Tempe ASU Area – 2.6 miles away
2104 E. Rio Salado Pkwy. Tempe, AZ 85281
480-966-2780
Hyatt Place Tempe/Phoenix Airport
1413 W. Rio Salado Pkwy, Tempe, AZ 85281
480-804-9544
Moxy Phoenix Tempe – 1.3 mile away
1333 S. Rural Rd., Tempe, AZ 85281
480-968-3451
Red Lion Inn & Suites Phoenix/Tempe-ASU – 2.0 miles away
1429 N. Scottsdale Rd., Tempe, AZ 85281
480-675-9799
Residence Inn by Marriott Tempe Downtown – 0.2 mile away
510 S. Forest Ave., Tempe, AZ 85281
480-967-2300
SpringHill Suites by Marriott Phoenix/Tempe-Airport – 2.0 miles away
1601 W. Rio Salado Pkwy, Tempe, AZ 85281
480-968-8222
Super 8 Tempe/ASU – 1.1 mile away
1020 E. Apache Blvd., Tempe, AZ 85281
480-967-8891
Tempe Mission Palms – 0.3 mile away
60 E. Fifth St., Tempe, AZ 85281
800-547-8705