ASU
Restaurants near Tempe's ASU Gammage
YES! You got tickets to the Broadway show you've been dying to see! The next step? Picking a fun, delicious, and conveniently located Tempe restaurant near ASU Gammage – preferably so that you only have to park once for the evening (here's a guide to where to park in Downtown Tempe). Being that ASU Gammage is located near Downtown Tempe, there are lots and lots of great choices for a meal before your show.
Here are a few of our favorite restaurants near ASU Gammage, but let us know if there's one we need to add!
Built to be a haven for lovers of bikes, good times and great beer, Pedal Haus Brewery has everything you need for a memorable night out. This 14,000 sq. ft. bike-friendly restaurant features hand-crafted European-style beers, a Belgian-American gastropub food menu, a huge patio space and three indoor and outdoor bar options with 24 taps each. With one of the biggest patios in all of Downtown Tempe, Pedal Haus Brewery brings together European-style crafted beers, beer garden and games such as cornhole, ladderball and ping pong.
730 S. Mill Ave. #102, Tempe, AZ 85281 | (480) 314-2337
(0.6 miles away)
In the mood for pizza and ramen? You'll find them both at Shady Park, a cool concept that is like two restaurants in one. They serve Damatos pizza and Umami ramen bowls, served in perfect harmony with cool 1970's inspired decor. If that's not enough, you can also enjoy live music, DJs and view sporting events on their outdoor patio, The Barpark.
26 E. University Dr., Tempe, AZ 85281 | (480) 474-4222
(0.6 miles away)
Pita Jungle is one of my favorite spots. Located on the corner of University Dr. and Mill Ave., the upbeat, edgy atmosphere is highlighted with artwork from local artists. Their healthy, Mediterranean dishes include Chicken Shawarma Pitas, Falafel, Lavosh Pizzas and Wood-fired Salmon. And, of course, always start your meal with pitas and their tasty hummus.
4 E. University Dr., Tempe, AZ 85281 | (480) 804-0234
(0.6 miles away)
Postino Annex is located in what was formerly the ASU Art Annex building, a low-slung, red brick Mid-Century Modern gem, built in the 1950s and used most recently as an ASU graduate student art studio. Postino Annex is known for its sumptuous bruschetta appetizers which are substantial enough to be a complete meal, or can be shared with friends followed by one of their delicious salads, sandwiches or desserts. Their patio is one of my favorite places to get a glimpse of campus life.
615 S. College Ave. Tempe, AZ 85281 | (480) 927-1111
(0.7 miles away)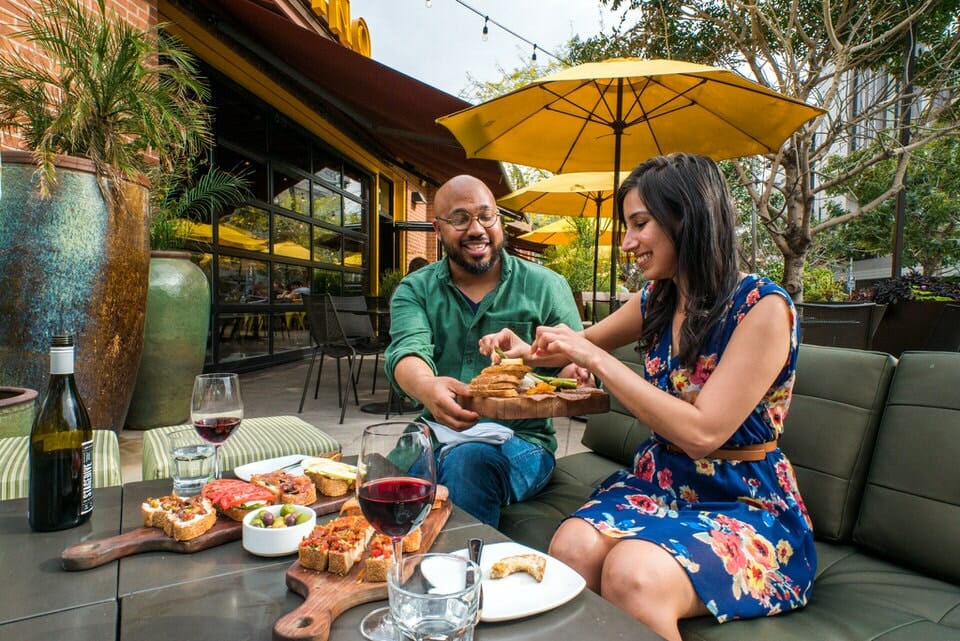 Casey Moore's is a local legend. For years, it has been a popular hang out spot for locals, visitors, students, professors…everyone is welcome. They have an extensive menu with salads, sandwiches, steaks, seafood options and a full bar. Relax on their patio or choose to sit in one of their charming indoor dining rooms. This place is known to be haunted, so who knows what you might see before a show at ASU Gammage!
850 S. Ash Ave., Tempe, AZ 85281 | (480) 968-9935
(0.5 miles away)
Alter Ego is located on the ground floor of the Canopy by Hilton Tempe and serves up elevated fusion cuisine made with fresh locally and regionally sourced ingredients and an inventive craft cocktail program. Not only is the dining experience and the food out of this world, but the Alter Ego modern interiors make for a delightful ambiance with floor-to-ceiling glass windows, lush greenery, custom wooden shelving, sleek marble countertops and exclusive, curated pieces from local artists.
Located inside Canopy by Hilton Downtown Tempe | 108 E. University Dr., Tempe, AZ 85281 | (602) 612-7871
(0.5 miles away)
Short on time before the show, but still want something delicious for dinner? Head to Sauce Pizza & Wine, just a 10 minute stroll from ASU Gammage. With quick counter service, you'll be in and out in a flash with a full belly and plenty of time to get to the performance. Sauce's menu features hand-stretched pizzas, gourmet salads, a variety of hearty pasta dishes and a lovely wine list.
705 S. Myrtle Ave., Suite 101, Tempe, AZ 85281 | (480) 597-4260
(0.5 miles away)
Special Deals
Receive special deals at participating restaurants before the Broadway performance by showing your digital tickets to an ASU Gammage performance. Offers valid only on the date of the performance at ASU Gammage. See participating restaurants here.