Beat the heat with a cool treat this summer and check out Tempe's frozen delights! Lucky for us, Tempe has everything from frozen yogurt and ice cream to shakes and icy treats to get us through the grueling summer heat. Here's a list of favorite frozen treats in Tempe.
And as a bonus, everything on this list offers either pickup or delivery, so you can enjoy a cool frozen treat at home!
1. Frozen Yogurt
A little lighter than ice cream, but just as satisfying, there are lots of places to get your FroYo fix in Tempe.
Aloha Yogurt
219 E. Baseline Rd., Tempe, AZ 85283 | (480) 289-5238
Aloha Yogurt has 12 flavors each day including tart, dairy free and no sugar added. Check Facebook and Instagram for their daily flavors. And the toppings? They have 45 to choose from! And, they have "dog-urt" for your best four legged friend and they serve smoothies too.
Open for take out and curbside pick up Tuesday-Sunday 3 p.m.-8 p.m. Closed on Mondays.
Menchie's Frozen Yogurt
1128 E. Baseline Rd., Ste. 101, Tempe, AZ 85283
There is always something new to try at Menchie's Frozen Yogurt! Their innovative research and development team works diligently to come up with new flavors and unique items like Menchie's custom frozen yogurt cakes! Menchie's offers something for everyone, including nonfat, no sugar added, gluten-free frozen dessert options that will satisfy everyone's taste.
Open for take out daily 12 p.m.-10 p.m.
2. Ice Cream Sandwiches
Ice cream and homemade cookies together?! Yes please! You have three options along Mill Avenue in Downtown Tempe that combine the best of both worlds:
Slickables
699 S. Mill Ave., Tempe, AZ 85281 | (480) 409-4591
Head to Slickables to create your very own customized cookie ice cream combo. Your taste buds will be happy with these frozen desserts and so will your wallet with their affordable prices.
Temporary Hours: 3 p.m. to midnight Monday-Friday; 12 noon to midnight Saturday & Sunday. Delivery available from Uber Eats, Postmates and GrubHub.
Sparky's Old Town Creamery
510 S. Mill Ave., Tempe, AZ 85281 | (480) 921-6228
Ice cream sandwiches are just one of the offerings at this ice cream destination. They have more than 20 flavors of ice cream and sorbet that include a free mix-in, Hawaiian shaved ice and smoothies. They make their ice cream in small batches on site so everything is always fresh.
Open for pickup or delivery through Seamless, Grubhub, DoorDash and Postmates.
3. Flavors of the World meet Ice Cream
So maybe you're a bit tired of the chocolate and vanilla combination and you're looking for something new. Tempe has got you covered. There are a few ice cream shops in town that combine flavors from around the world with ice cream.
Curry and Scoop
1805 E. Elliot Rd. #106, Tempe, AZ 85284 | (480) 838-0200
Not only does Curry and Scoop serve authentic Indian food, they also offer Indian-inspired ice cream. Think of ingredients such as Rose Petal, Mango and Saffron and Pistachio. This could change everything about dessert.
Open for pickup and delivery available through GrubHub.
Mango Rabbit
1250 E. Apache Blvd. #112, Tempe, AZ | (480) 912-6283
Have you checked out Mango Rabbit? This hidden gem is located on the Northwest corner of Dorsey and Apache Blvd. and it is the perfect addition to The Spice Trail as it is a globally inspired concept with only fresh ingredients. I recommend the Godiva Dark Chocolate Bubble Waffle treat. It's quite the process to make as they cook their waffles on the bubble waffle iron right then and there. It turns into the most beautiful masterpiece (absolutely photogenic). If time isn't on your side, be sure to check out one of their tasty non-dairy milk teas, more specifically the Tiramisu, as it it was very sweet and yummy!
Call ahead for pickup. Delivery available through GrubHub.
4. Slushes, Shaved Ice and Smoothies
Shaved Ice, Smootheis and Slushes…it's all welcome during the summer months in Tempe. Here are three places to check out:
Bahama Buck's
1006 E. Warner Rd., Tempe, AZ 85284 | (480) 777-9482
Take your tastebuds on a tropical vacation. Bahama Buck's offers island-inspired shaved ice that you can smother with one of their endless possibilities of flavors. The also serve smoothies, lemonade, flavored sodas and "Frostalattes," an iced and blended drink made with their own blend of Kona Coffee. Their menu makes summer much more bearable.
Grab and go, drive thru, online ordering and third-party delivery.
Zero Degrees
2000 E. Rio Salado Pkwy., #1069, Tempe, AZ 85281 | (480) 247-7540
As you can tell by the name, Zero Degrees has the frosty dessert thing down. This Asian-Hispanic fusion café specializes in slushes, milkshakes and hot snacks. Their #1 bestseller is the Mangonada which is a delectable mango slush with real fruit chunks, topped with chamoy and Tajin seasoning. My next visit might have to include the Ube Milkshake. This drink has just about everything to become insta-famous. From the bright purple color of the creamy ube shake (made from purple yam, typically used for flavoring in sweet dishes) to the extravagant toasted marshmallow & sour belt candy topping, this drink is everything and more! Order any of their drinks in a Zero Degrees Angel Wing jar for added flare. Zero Degrees also has coffee and tea if you'd rather skip the frozen delights.
Open for pickup and delivery through UberEats and DoorDash.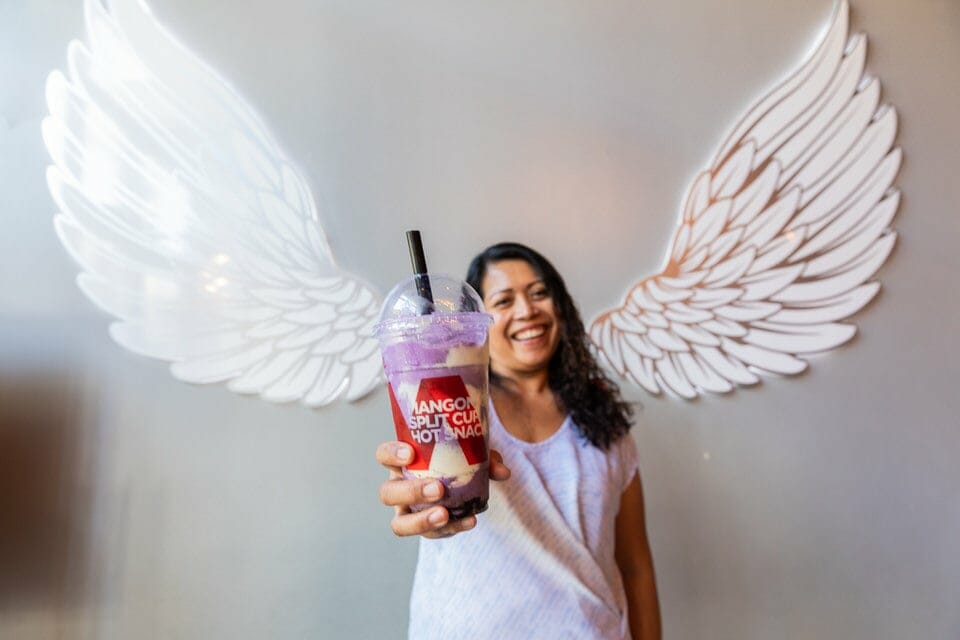 Joe's Italian Ice
2019 S. McClintock Dr, Tempe, AZ 85282 | (480) 907-7077
Joe's Italian Ice brings Philly-style frozen treats all the way to Tempe. Each specialty treat is crafted to perfection with real fruit from California farms and ice cream straight from a dairy in Philadelphia. They offer nearly 100 different unique Italian ice flavors, from Strawberries 'n Cream to Peanut Butter Cup, you can even combine your choice of soft serve ice cream with it!
Open for takeout, dine-in and delivery.
5. Frozen Libations
Those local to the Tempe area know how important it is to find ways to beat the heat during the summer, including finding the best frozen drinks that transport you into a blissful retreat. Check out these locations:
Fat Tuesday
680 S. Mill Ave., #106, Tempe, AZ 85281 | (480) 967-3917
Order the world famous frozen Daiquiri at Fat Tuesday and enjoy it at home! You can even order a full gallon of your ice cold daiquiri for just $35! My go-to daiquiris have to be either the Creamsicle or the Screaming Coyote, both are a slice of summertime heaven!
Open for pickup and delivery through DoorDash.
Fuzzy's Taco Shop
414 S. Mill Ave., Tempe, AZ | (480) 968-8226.
Fuzzy's Taco Shop has beeritas and frozen margaritas available for take-out! Choose between the House, The Shocker or the Morning Glow frozen margarita. I personally suggest the Morning Glow, as it is a frozen mango and strawberry margarita, served with a champagne bottle! Please note, food must be included with any off-premise alcohol orders. Order online now!
Open for dine-in, curbside pickup and delivery. Beeritas and margaritas available for takeout. Must still show valid 21+ ID.