Food Scene
Brunch in Downtown Tempe is a Can't Miss
My favorite part of the weekend is brunch for a few reasons. First, it's the only time it's socially acceptable to have a late breakfast and a cocktail all before noon. Secondly, Tempe has so many restaurant options to satisfy all your weekend brunch cravings. From zesty mimosas to syrup-covered red velvet waffles, Tempe's brunch scene has got you covered. Here are a few of our favorite weekend brunch locations.
And, you'll notice that we included a few brunch favorites outside of Downtown Tempe. What can we say? Brunch is a way of life throughout our city and can't be confined to just one area. And, whatever your dining preference, in-person, on a sunny patio, or takeout, these Tempe restaurants can accommodate you and start your day off with deliciousness.

It'll take you a few weekends to get through this list. You're welcome.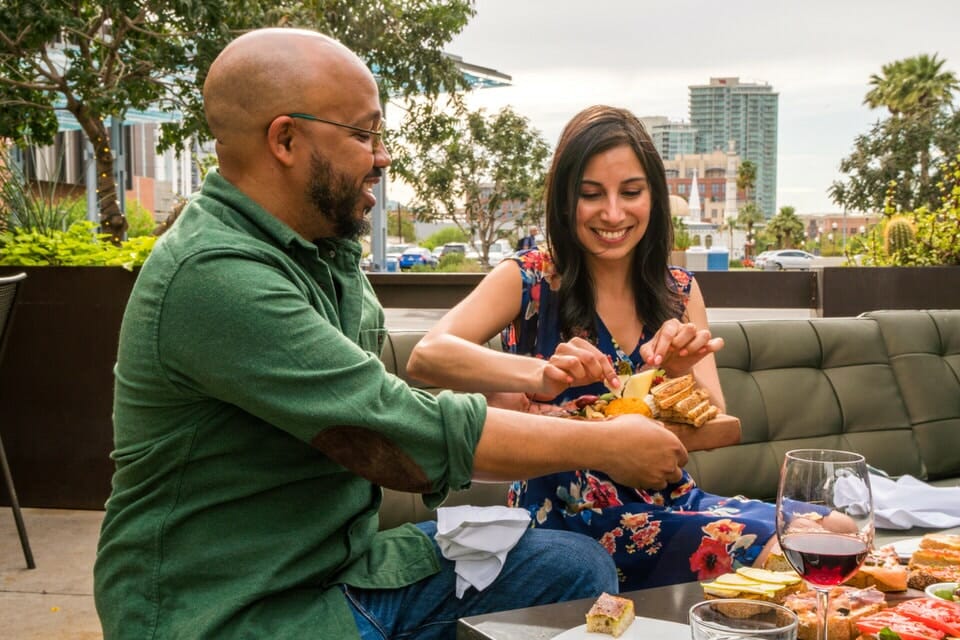 Postino Annex | 615 S. College Ave., Tempe, AZ 85281 | (480) 927-1111
This Tempe gem is housed in a historic red brick building at the intersection of College Ave. and Sixth St. You may be familiar with their lunch and dinner menu, but Postino's also serves delicious brunch and cocktail items. Sit at the bar or patio while you enjoy their Grilled Focaccia or a B.E.L.T., a clever take on the traditional B.L.T. made of applewood smoked bacon, scrambled eggs, dijonnaise, lettuce and tomato. Brunch is available Saturday and Sunday from 9 a.m. – 1 p.m.
Check out the newest location, Postino South Tempe! | 8749 S. Rural Rd., Tempe, AZ 85284 | (602) 325-2211
149 S. Farmer, Tempe, AZ 85281 | (480) 240-1601
For more of an unconventional brunch, head over to Culinary Dropout for great food and a spunky atmosphere. From their retro decor to their talented chefs and friendly servers, Culinary Dropout on Farmer Ave. and First St., is known for their unorthodox way of doing things. Spend time in their pub enjoying a side of live music with some of their Bread Pudding French Toast or a Bacon Bloody Mary, or indulge in a playful game of of shuffleboard, ping pong, or corn hole.
20 W. 6th St., Tempe, AZ 85281 | (480) 361-6644
Enjoy fun with your brunch at SNAKES & LATTES in Downtown Tempe. Choose from their extensive list of brunch menu items all while playing a board game or two…or maybe even three! Take your pick of hundreds of board games, from classics like Clue and Mall Madness to the newest in strategy games. And, you can even play the games with your brunch bunch on their shady patio!
Daily Dose Rio Salado| 96 S Rockford Dr, Tempe, AZ 85281 | (480) 590-6937
Meet your newest go-to brunch in Tempe. Grab a bite here before shopping at Tempe Marketplace and try their amazing selection of breakfast and lunch. We ordered the Chili Verde Huevos Rancheros and the pork was so well-cooked! We also tried their Hangover Sandwich, voted to be the best hangover sandwich by Phoenix New Times, which includes peppered bacon, turkey sausage, fried egg, caramelized jalapeño and onion, melted cheddar/jack, and spicy harissa aioli on sourdough toast. Not to mention, they have a large patio in front of their restaurant to enjoy your brunch with your furry companion.
310 S. Mill Ave. #A101, Tempe, AZ 85281 | (480) 968-9288
Breakfast, brunch and lunch on a lovely patio in the heart of Downtown Tempe? Yes please! Walk up and order from the delicious menu offering several classic breakfast items, and some not so classic breakfast items too. Whether you're looking for a quick bite to eat or a sit-down meal with friends, Daily Jam has it all. Order your drinks (alcoholic or not) from the indoor/outdoor bar instead of the counter for less wait time. Open daily from 7 a.m. to 3 p.m.
2000 E. Rio Salado Pkwy. #1041, Tempe, AZ 85281 | (480) 968-2920
Located at Tempe Marketplace, Thirsty Lion boasts a fantastic brunch menu on the weekends. Choose from a large selection of breakfast cocktails and breakfast menu items like the Lions Breakfast Burger or the Adobo Pork Benedict. Take your brunch out on their spacious patio that overlooks the interior shopping area to establish your shopping day plan.
2700 S. Mill Ave., Tempe, AZ 85282 | (480) 590-5703
Just south of Downtown Tempe in the Broadmor neighborhood, you'll find cocktail forward concept, Golden Pineapple serving up brunch daily. Sip on vibrant morning cocktails and a plethora of Baja Mexican-style breakfast menu items with a Sonoran Desert twist. Those local to the area know how special a Sonoran hot dog can be, but have you ever tried it as a breakfast item? Didn't think so. The Golden Pineapple takes the classic Sonoran hot dog and wraps it in bacon, adds crispy beans, chipotle mayo, and tops it with avocado salsa. Now if that doesn't start your day off right, then I do not know what will!
1435 E. University Dr., Tempe, AZ 85281 | (480) 625-3600
Made from scratch Mediterranean-American food paired with tasty cocktails, Salut Kitchen Bar is a warm atmosphere that feels cozy and cool for a perfect weekend brunch. Enjoy bites like their hummus nachos, hangover fries or breakfast sliders. Brunched is served on Saturday and Sunday 10 a.m. – 2 p.m.
690 S. Mill Ave. Suite 110, Tempe, AZ 85281 | (480) 264-4688
This cheery and bright restaurant in Downtown Tempe serves up all the favorites including pancakes, omelets and egg dishes and a full coffee and espresso menu. You can even squeeze the most out of your morning (no pun intended) and order from their morning cocktail, wine, beer and bloody mary list. I recommend trying the Sully Slush which is a champagne floater with vodka, peach and pear! I mean, the only "pain" I would like to feel in the morning is Cham"pagne"…am I right?
1120 E. Baseline Rd., Tempe, AZ 85283 | (480) 534-4044
Be sure to check out Scramble in south Tempe, a quick casual spot on Baseline and Lakeshore Drive. They use fresh local ingredients and offer lots of vegan and gluten friendly menu items. Diners can enjoy their food on the patio, and sit awhile to relax over their delicious food. Dogs are welcome on their patio, an awesome plus!
615 S. College Ave. #103, Tempe, AZ 85281 | (480) 355-1934
Great food, a roomy patio and a trendy atmosphere make this place a treat every time. At Snooze, guests are tempted by from-scratch menu items such as a choose-your-own flight of fluffy pancakes or house-made breakfast pot pie smothered in rosemary sausage gravy. Open 7 a.m. to 2 p.m. Monday-Friday, and 6:30 a.m. to 2:30 p.m. Saturday-Sunday.
108 E. University Dr., Tempe, AZ 85281| (602) 612-7871
Alter Ego is now open! Located on the ground floor of the Canopy Tempe Downtown Hotel, enjoy the eclectic and comfortable atmosphere with good brunch eats and drinks amongst friends (at a safe distance of course). I recommend trying their Nutella French Toast which incorporates Brioche, Nutella, Toasted Almond Crumble, and Ginger Maple Syrup. It is a sweets lovers dream!
For more Tempe breakfast ideas, check out our favorite breakfast spots in Tempe.