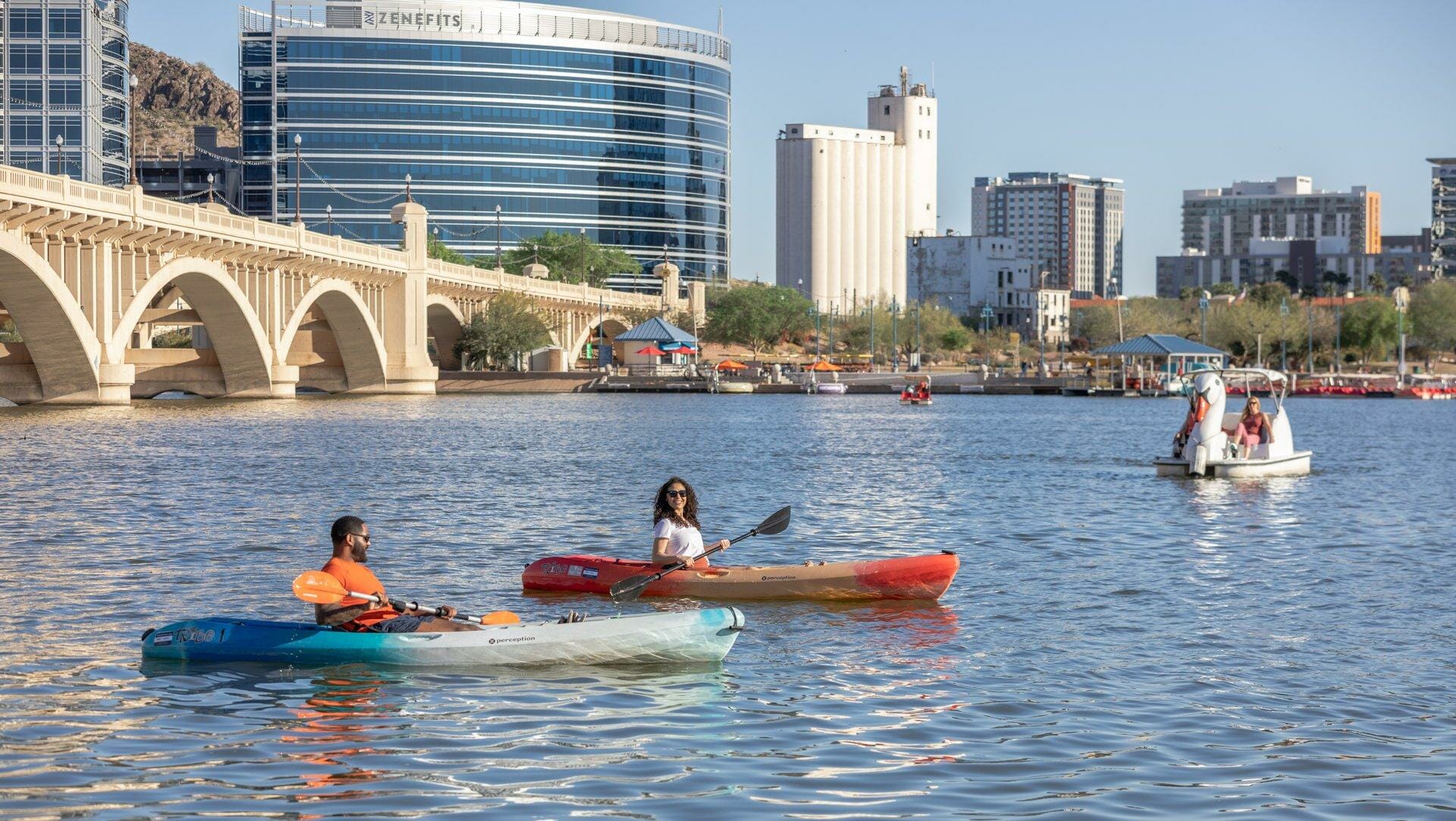 Tempe Town Lake is the perfect spot to experience fun and enjoy the outdoors.
It's a bit unexpected for visitors to find a large body of water right in the heart of the city, but that's exactly what you'll find at Tempe Town Lake. From January to December, winter or summer, the lake is an excellent place to visit.
Please note: Swimming at Tempe Town Lake is never permitted (special events excluded).
Located on the northwest corner of Mill Avenue and Rio Salado Parkway, Tempe Town Lake is one of Arizona's most visited — and scenic — tourist destinations. This two-mile-long lake is is home to picturesque bridges, year-round events and festivals, and some of the best views around. Time your visit just right and you'll be in awe of the sky's vibrant colors, casting striking silhouettes, at golden hour. Later in the evening, you'll be captivated by reflections of the city lights as they dance across the water. But that's only half of the appeal of this recreation oasis. Here's how to explore ahead of sunset:
Rent a boat
Boat Rentals of America – Tempe Town Lake, located on the south shore at Tempe Beach Park, offers visitors the opportunity to rent several varieties of watercraft.
If you're with a group of friends, I suggest checking out the donut boat, which holds up to 10 people. The donut boat features a round table in the middle, perfect for a floating picnic. Plus, it is pet friendly! It costs $140/hour, which is a pretty good deal if you split the cost amongst the people in your group.
Some of the more popular rentals are kayaks and stand-up paddleboards (SUP). There are two kayak options to choose from: single and double. Both options are sit-on-top kayaks, similar to how a canoe might look. They have recently added Swan, Duck and Dragon Pedal Boats to their inventory. They are totally adorable. Find a complete list of boats and rental rates here.
Northshore Watersport Rentals is located on the north shore of Tempe Town Lake, near the Tempe Town Lake Marina Boat Launch. This is another super convenient place to rent your favorite watercraft. Rental options include kayaks, double kayaks or stand-up paddleboards for exploring the waterway. Find pricing, hours and availability on their website.
City of Tempe boating classes
If you want to get more comfortable with your boating skills before venturing onto the lake, the City of Tempe has you covered. Check out the many classes offered for you to get more acquainted with boat safety and boat handling. Search for "boating" in the activities search box to find upcoming classes.
Go for a run or walk
If you're more of a land lover, you can still enjoy the lake from the shore. Grab your sneakers and go for a jog or walk along the 5-mile path around Tempe Town Lake. To utilize both the north and south shore sidewalks, use the Elmore Pedestrian Bridge by the Tempe Center for the Arts. On the north side of the lake, you can cross back over the water by using the stairs just east of the train and Valley Metro Rail tracks (if you pass the North Shore Beach, you have gone too far). Take a quick right from the top of the stairs leading to the Mill Avenue bridge. Head south to get back to the entrance of Tempe Beach Park at the corner of Mill Avenue and Rio Salado Parkway.
Enjoy a bike ride
If you'd rather experience the lake on two wheels, take a relaxing bike ride. No bike? No problem. You can easily rent a bicycle from The Bicycle Cellar, located at Fifth Street and Forest Avenue, next to the Tempe Transportation Center in Downtown Tempe. Or try your skills on an electric scooter, which you can rent throughout Tempe Beach Park. Enjoying a fun ride along the water isn't something you'd expect in the desert, but it's just one thing that makes Tempe an exceptional place.
If you're on Tempe Town Lake's north shore, rent a bike from Wheelie Good Bikes near the marina. Rental options include cruiser bikes, e-bikes or mountain bikes.
Go fishing
Fishing at Tempe Town Lake is another popular activity. Trout, bass, catfish and sunfish all call Tempe Town Lake home, but make sure you have the proper fishing license before dropping your line. Fishing licenses can be purchased at any Arizona Game and Fish office, most fishing supply stores or sporting goods stores. Trout are stocked every month from November to February, depending on water conditions. You will also find bass, catfish and sunfish stocked year-round.
Explore public artwork
And last but not least, in a college town like Tempe, you can expect art at every turn, and that's true at Tempe Town Lake. Many public artworks along the lake, from the lights that line the Valley Metro Rail bridge to the "Words Over Water" tiles that line the lake's south shore. Use the City of Tempe brochure to take a self-guided tour of Tempe Town Lake public art.
For more information about things to do in Tempe, visit our website or call (480) 894-8158.