It's a ruff life being a pet owner. Not only do you have to sometimes leave them at home alone while you're at work, but sometimes it can be im-paws-ible to find pet-friendly places to bring them on the weekends. Lucky for those visit Tempe, Arizona, there are plenty of restaurants, bars, and even shopping centers that will accommodate you and your pet. Below is a list of just a few of our favorites.
Attractions and Activities
First, Tempe has 6 dog parks. Dogs must be on a leash when entering or exiting, but once inside, your dog can run freely and make lots of new friends. Two of the most popular dog parks are located at Mitchell Park and Tempe Sports Complex.
Rent a boat or walk with your pet in tote at Tempe Beach Park and Tempe Town Lake!
Go for a Run or walk – Grab your sneakers and a leash and go for a jog or walk along the 5-mile path around Tempe Town Lake. Please remember to be mindful of your pet and pick-up after them if duty calls!
Rent a boat – Weather you use a personal watercraft (permit required) or rent from Tempe Boat Rentals, pets are welcome to enjoy all the views from Tempe Town Lake. Electric boats excluded.
Dogs are also allowed on the hiking trails in Papago Park, South Mountain Park and Preserve and "A" Mountain. Check out our Tempe hiking blog for a list of hiking spots and directions to trailheads. Just be sure to avoid hiking on days when it is 100+ degrees, bring lots of water for you and Fido and clean up after him or her too.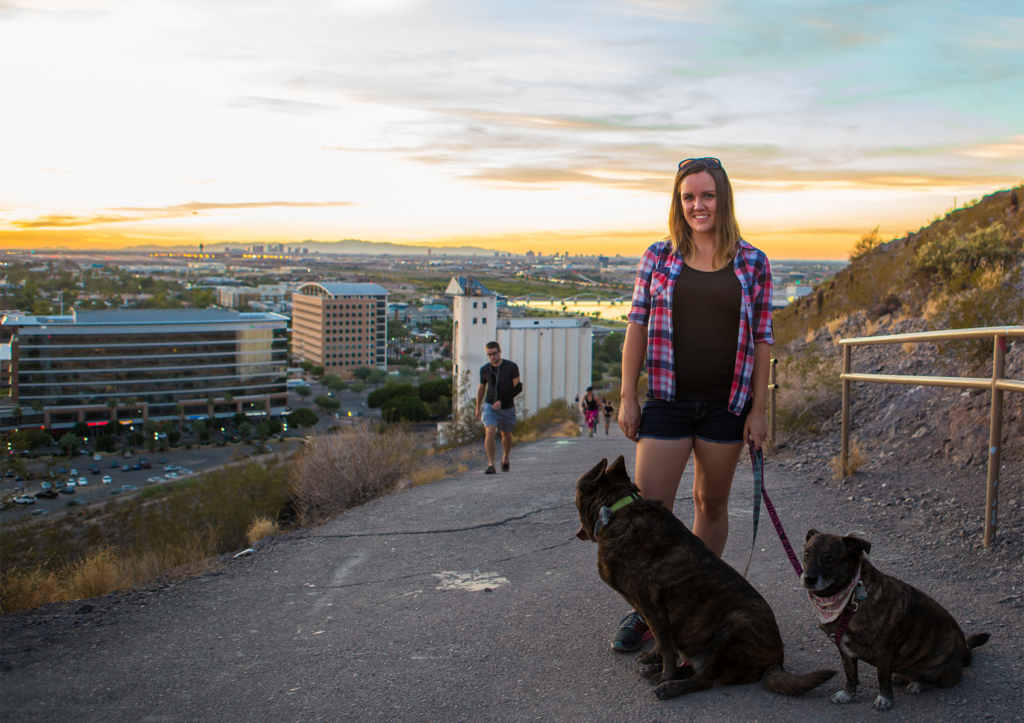 Tempe Marketplace
2000 E. Rio Salado Pkwy., Tempe, AZ 85281 | (480) 966-9338
Are you itching to visit a large outdoor shopping complex and bring your best friend with you? Luckily, dogs can travel through The District area at Tempe Marketplace as long as they are on a leash that does not exceed 6 feet or within a pet carrier. Individual stores or locations within Tempe Marketplace may set their own policies, so just be sure to check before going inside. There are restrictions, as dogs other than service animals are not allowed to be on any fountain decks. If your dog has a good temperament and does well around others, you should feel free to bring him or her to get some exercise and explore with you.
6th Street Market
Well behaved dogs are always welcome at 6th Street Market, held every Sunday through April 14, 2019 from 10 a.m. to 3 p.m. This weekly event at 6th Street and Mill Avenue in Downtown Tempe features Arizona artists and food for sale, along with live music. There are usually a few vendors who sell dog treats and super cute, custom made dog leashes, collars and other pet accessories.
Tempe's dog-friendly restaurants
Tempe has PLENTY of dog-friendly restaurants but here's a few to get you started (but mostly hungry)…
Daily Jam
310 S. Mill Ave., Tempe, AZ 85281 | (480) 968-9288
Daily Jam is a favorite for both breakfast and lunch. They serve tasty omelettes, sandwiches, salads, waffles and gourmet coffee. Their spacious patio, located just across from the Mill and Third St. light rail stop, is a great place to relax with your favorite dog or two.
Morning Squeeze
690 S. Mill Ave., Ste. 110, Tempe, AZ 85281 | (480) 264-4688
Morning Squeeze at 7th Street and Mill Avenue in Downtown Tempe has a menu that is full of delicious options for you and your four-legged friends. Their super dog-friendly patio is the perfect spot to relax with your favorite pooch, while you treat them to one of their "Tail Wagger" dishes. Your dog can choose from the Chow Hound Scramble, Pup Cakes or Doggy Biscuits and Gravy.
Postino Annex
615 S. College Ave., Tempe, AZ 85281 | (480) 927-1111
What was once a red brick schoolhouse, turned-art-studio, is now a pet lover's paradise. This location is equipped with great wine, simple delicious food, a large sunny patio and an indoor/outdoor bar.
SNAKES & LATTES
20 W. 6th Street, Tempe, AZ 85281 | (480) 361-6644
Have you ever wanted to play Battleship with your pup? Well, now you can! SNAKES & LATTES has not one but two extensive outdoor pet friendly patios. Enjoy food, drinks and a library of thousands of playable games old and new to enjoy with your furry friends, too!
Shady Park
26 E. University Dr., Tempe, AZ 85281 | (480) 474-4222
Take your dog to a park that you will enjoy too! Shady Park is a fun-loving destination known for their backyard-like patio and regular line up of live music and DJs.
Snooze an A.M. Eatery
615 S. College Ave., Tempe, AZ 85281 | (480) 355-1934
Friendly, leashed dogs are welcome at any time on Snooze's patio. Great food and a relaxing atmosphere makes this place a treat every time.
House of Tricks
114 E. 7th St., Tempe, AZ 85281 | (480) 968-1114
House of Tricks is a beautiful oasis in the middle of Downtown Tempe. Dogs are allowed in the outdoor bar area. The restaurant consists of two bungalows and a serene patio filled with plants, flowers and fountains. They have an extensive wine list and a creative food menu. Don't miss their version of happy hour, called "hours of tranquility."
Casey Moore's Oyster House
850 S. Ash Ave., Tempe, AZ 85281 | (480) 968-9935
Casey Moore's Oyster House is perfect for you and your four legged friend. Originally built as a private residence in 1910, Casey Moore's has the perfect convivial outdoor patio that is perfect for you to enjoy great oysters, seafood and beer. Dogs are welcomed to accompany their owner on the patio until 5 p.m.
The Shop Beer Co.
922 W. 1st Street, Tempe, AZ 85281
Bring in your best bud for the best brew at The Shop Beer Company. Just a stone's throw from Downtown Tempe just south of Tempe Town Lake, the brewery is located in a building that was once home to two city mayors. Since opening, it's become a popular hangout for workers, students, neighbors and pups alike!
The Handlebar Tempe
680 S. Mill Ave., Tempe, AZ, 85281 | (480) 474-4888
The Handlebar is well-known for delicious grilled cheese, burgers, pretzels and craft beers, but what is really great is that the patio area is dog-friendly! So, you can grab a bite to eat, get a drink and relax without having to leave your canine friend at home.
Salut Kitchen Bar
1435 E. University Dr., Tempe, AZ 85281 | (480) 625-3600
Salut offers a wide array of flavorful and innovative menu items inspired by a mix of Mediterranean and American cuisine. It's also a perfect place to bring Fido — they have a 1,250 square foot dog-friendly patio.
Pedal Haus Brewery
703 S. Mill Ave., Tempe, AZ, 85281 | (480) 314-2337
Home of the largest patio in Downtown Tempe, Pedal Haus is a great place for dogs and their humans. They make award-winning craft beer and they're also well known for tasty menu items (try the chicken salad sandwich). It's also a popular gathering spot for Sun Devil fans.
Ted's Refreshments
404 S. Mill Ave. #101, Tempe, AZ 85281 | (480) 590-7371
At Ted's Refreshments, located in Downtown Tempe, guests will find inexpensive American classic menu items and lots of beer and cocktail options. Enjoy lunch specials that your boss may not approve, happy hour specials and Sunday brunch. Bonus for your pets – Ted's had a dedicated pet-friendly patio where dog owners can bring their furry companions to socialize—while they drink and eat. The dog park is open every Saturday and Sunday from 11 a.m. to 8 p.m.
Fate Brewing Company – Tempe
201 E. Southern Ave., #111, Tempe, AZ 85282 | (480) 590-2395
This mid-century modern building was done to the nines with a wrap around indoor-outdoor bar serving up the best of Fate Brewing Company. This Arizona-based brewery is known for bold, award-winning craft beers and perfectly paired lunch and dinner fare. They've brought an incredible sense of space to two distinct outdoor patio areas, including one with a grass turf, picnic tables and lawn games. This welcoming place is perfect for you to enjoy your hooman time and your pups to enjoy the droppings.
Pier 54
5394 S. Lakeshore Dr., Tempe, AZ 85283 | (480) 820-0660
Take in the views and more with your pooch at Pier 54. This outdoor restaurant and bar offers a unique panoramic view of a beautiful, man-made lake that is an ideal setting for this time of year.
Spokes on Southern
1470 E. Southern Ave., Tempe, AZ 85282 | (480) 307-9920
With tasty sandwiches, fresh salads, a wide selection of beers and a bicycle theme, Spokes on Southern is another great Tempe grill with a dog-friendly patio. Bring your bicycle and your dog for fun, food and craft beer.
Aloha Frozen Yogurt
219 E. Baseline Rd. #5, Tempe, AZ, 85283 | (480) 289-5238
Are you in the mood for a frozen dessert? Aloha Frozen Yogurt has an outdoor seating area that welcomes both two and four-legged patrons. The location is even kind enough to whip up dog-friendly frozen yogurt (Milkbone flavored/infused) so that your companion can enjoy a treat as well.
Places to Stay
View our hotels in Tempe and look for the paw print icon on the hotel page to find out if their pet-friendly. The Tempe Visitor's Guide indicates which Tempe hotels are pet-friendly as well. View the Tempe Visitor's Guide online or request a printed copy. The Graduate Tempe hotel has a partnership with BarkBox, so your furry friend will feel like royalty when they received their own gift upon check-in.
Want to know more?
You don't have to take our word for it!! Read about the Traveling Newlyweds visit to Arizona with their pup, Sally on their blog.
Where will you and your furry friend travel to next? #OurTempe