What does great weather, delicious food and the perfect outdoor patio have in common? They are all available right here in Tempe! Patio dining is in full swing and it's not stopping anytime soon.
House of Tricks
114 E. 7th St., Tempe, AZ 85281 | (480) 968-1114
You could go to House of Tricks for their patio alone, but it's the amazing food that will keep you coming back again and again. This legendary Tempe restaurant is located in two side by side historic cottages and most of the tables are located among beautiful plants and trees in their courtyard. They feature "hours of tranquility" at their outdoor bar instead of just your run of the mill happy hour. Their contemporary American menu changes seasonally, they use local ingredients whenever possible and their wine list is one of the best around.
Four Peaks Brewing Company
1340 E. 8th St. #104, Tempe, AZ 85281 | (480) 303-9967
Located in a historic creamery, the pub has a fun atmosphere and an open air feel, making it the perfect place to hang out and grab a beer and bite to eat with friends. Four Peaks offers twelve unique mainstay beers and a variety of seasonal beers throughout the year. The welcoming patio wraps around the front of the building so there's plenty of room for everyone. Visitors can schedule a tour of the brewery to get an up close look at the behind the scenes process. Learn about how they make your favorite beer, what goes into the process, how it's stored and how they can it.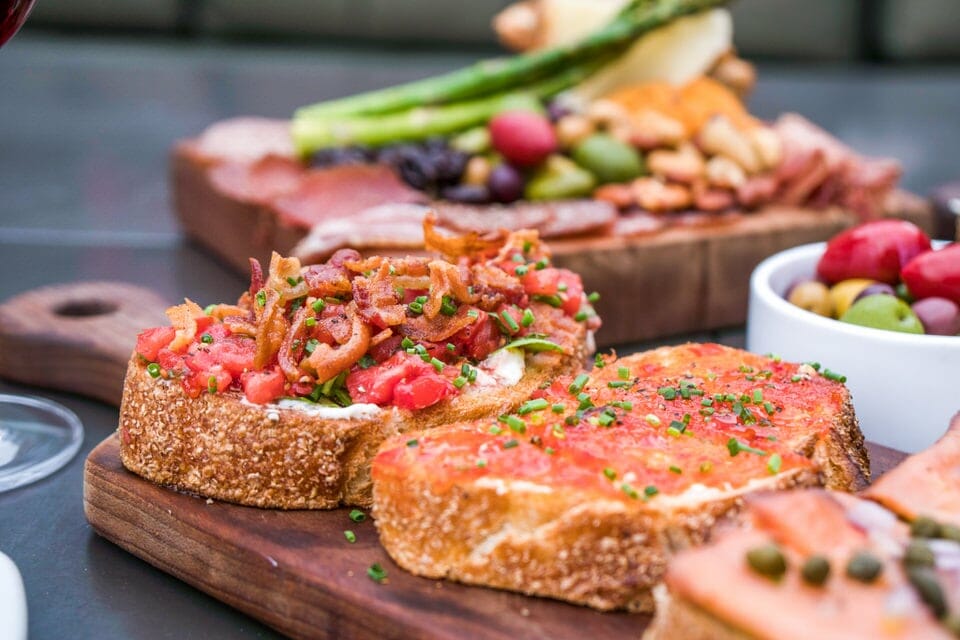 Postino Annex
615 S. College Ave., Tempe, AZ 85281 | (480) 927-1111
In the shadow of Sun Devil Stadium lies Postino Annex. This local chain of wine cafés first opened in a vacant 1940s post office in 2001 by owners with a passion for unique wines and simple, delicious food. Tempe's Postino Annex is on the corner of Sixth Street and College Avenue. also in a historic building that was once a red brick schoolhouse and an art studio. The large sunny patio has bright yellow umbrellas and an indoor and outdoor bar. Postino Annex is the perfect place to meet with friends and the service is so terrific, you'll always feel welcome.
C.A.S.A
15 E. 6th St., Tempe, AZ 85281 | (480) 557-8226
C.A.S.A., which is located on the southeast corner of Mill Avenue and Sixth Street, is always an excellent choice. The patio regularly features live music, and they offer over 30 beers on tap. This patio bar is completely outside with an upper deck. The patio is equipped with a state of the art "Typhoon Misting System" that will cool you down on even the hottest of days. C.A.S.A is the perfect place to get a good view of the always entertaining Mill Avenue.
Pier 54
5394 S. Lakeshore Dr., Tempe, AZ 85283 | (480) 820-0660
Calling all you outdoor lovers, Pier 54 is just the place for you. It's hard to find a better place in Tempe where you can enjoy great food and feel like you're on a vacation. Pier 54 is located on Lakeshore Drive in south Tempe in the heart of The Lakes neighborhood. This outdoor restaurant and bar offer a unique panoramic view of a beautiful, man-made lake that is an ideal setting for this time of year. Pier 54 offers a cozy and casual dining experience perfect for a leisurely lunch or a sunset dinner.
Pedal Haus Brewery
730 S. Mill Ave. #102, Tempe, AZ 85281 | (480) 314-2337
Pedal Haus Brewery at Seventh Street and Mill Avenue features hand-crafted beers, a delicious gastropub menu and a huge outdoor patio. Pedal Haus features Tempe's biggest patio, which includes a massive fire pit and an outdoor beer garden packed with games like corn hole, ladder ball and ping pong. Built to be a haven for lovers of bikes, good food and great beer, Pedal Haus always delivers a good time.
Culinary Dropout at the Yard Tempe
149 S. Farmer Ave., Tempe, AZ 85281 | (480) 240-1601
The Yard is a revamped warehouse space on First Street and Farmer Avenue, and is home to Culinary Dropout, an expansive gastropub with a cool come-as-you-are vibe. Their over-sized patio is a destination unto itself with a well-stocked bar, corn-hole games, ping pong tables and live music on the weekends – all illuminated by twinkling lights. They serve a rotating selection of beers, from classics to Arizona brews. Their inventive lunch, dinner and weekend brunch menu range from hearty fare such as meatloaf to lighter items like the garden kale salad.
Top of the Rock Restaurant
2000 W. Westcourt Way, Tempe, AZ 85282 | (602) 431-2370
Located at the Phoenix Marriott Tempe at The Buttes resort, Top of the Rock Restaurant has been recognized as one the most romantic dining destinations in the country by the Huffington Post and Open Table. The restaurant interior is surrounded by windows which offer diners a 360 view of Phoenix, Tempe and Scottsdale. If the weather is nice enough, sit outside on their patio around a fire pit with a nice glass of wine and watch the sunset over the valley. Open: Thursdays – Sundays.
SNAKES & LATTES
20 W. 6th St., Tempe, AZ 85281 | (480) 361-6644
Snakes & Lattes has great food from burgers to poutine, and beverages, from coffee creations to beer and cider. But, the best part is that you can combine your meal with your pick of hundreds of board games. They have classics like Clue and Mall Madness to the newest in strategy games. And, you can enjoy games with friends on their shady patio.
Voodoo Daddy's Steam Kitchen
1325 W. Elliot Rd. Ste. 106, Tempe, AZ 85284 | (480) 659-6145
Your favorite Creole dish just got a whole lot closer to your stomach! Voodoo Daddy's Steam Kitchen is AMAZING comfort food you'd come to know. Serving up dirty rice, hearty pastas and Po'boy sandwiches, but the true show stopper…. are their beignets!! Made to order hot, you can enjoy their beignets sprinkled with powdered sugar and served with melted chocolate.
Rustler's Rooste
8383 S. 48th St., Phoenix, AZ 85044 | (602) 431-6474
There is no better place to have a true Arizona experience than to dine at Rustler's Rooste. Here, you'll find an indoor slide and waterfall, cowboy hat-adorned staff, live country music every night, and western fare such as rattle snake! With all that Rustler's Rooste has to offer, there is just nothing that can compare to their patio. The vantage point from their patio is unlike anything you have ever seen. Not only do you get unparalleled views of the city lights, but you catch the most amazing neon sunsets here! Closed: Monday and Tuesday, Wednesday thru Friday – Open at 5 p.m., Saturday & Sunday – Open at 4:30 p.m.
Spinato's Pizzeria
96 S. Rockford Dr., Tempe, AZ 85281 | (480) 967-0020
After years of serving Tempe patrons in small tight quarters, Spinato's Pizzeria got a major revamp and a new location that is almost three times the size of their original location. Not only is it updated with a new modern interior, but they included an outdoor space overlooking Rio Salado that is Tempe's newest slice of patio heaven. No pun intended. Check out the old Spinato's classics and some new menu items at this location.
Casey Moore's Oyster House
850 S. Ash Ave., Tempe, AZ 85281 | (480) 968-9935
Casey Moore's is one of the most famous Irish pubs in and around Arizona. It's a great place with an inviting cozy patio, tucked away in a cool neighborhood and it's rumored to be haunted. True to its name, Casey Moore's is known for their oysters, but there are lots of other delicious items on the menu like the crab cakes and fish 'n' chips. The bar looks and feels like a true Irish pub and has a huge selection of draught beers, bottled beer, whiskeys and spirits.
398 S. Mill Ave., Tempe, AZ 85281 | 480-968-9112Founded over 25 years ago, Caffe Boa is a staple in the Tempe community. This patio is nestled on Fourth Street and Mill Avenue and has more of an intimate setting. Tucked under a canopy of beautiful greenery, this patio blocks out the hustle and bustle of the Downtown area making it the perfect date night location. While taking in the patio, enjoy handmade pastas and fresh seafood, crafted from the finest organic, natural ingredients. Also make sure to check out Caffe Boa's extensive wine and cocktail list!
Thirsty Lion Gastropub & Grill
2000 E. Rio Salado Pkwy. #1041, Tempe, AZ 85281 | (480) 968-2920
Located at Tempe Marketplace, Thirsty Lion boasts a fantastic menu, a full bar with a large selection of beers on tap and a spacious patio. It overlooks the interior shopping area, so it's great for people watching and deciding which stores to head to next. Stick around Friday and Saturday evenings for free live music at The District Stage located by Dave & Buster's.
Fate Brewing Company
201 E. Southern Ave., #111, Tempe, AZ 85282 | (480) 590-2395
Fate Brewing Company is no stranger to the Valley. With two locations in Scottsdale, Fate Brewing Company is making a name for itself in Tempe and should be at the top of your list of outdoor restaurants to try. This patio is probably one of my favorites in terms of ambience. It's not located on Mill Avenue or South Tempe, it sits right in between for a more relaxed yet vibrant vibe.
Alibi Bar at Canopy Tempe
108 E. University Dr., Tempe, AZ 85281 | (602) 612-7872
The newest hotel in Downtown Tempe, Canopy by Hilton Tempe Downtown opened its doors with a beautiful rooftop pool and the only rooftop, full-service bar in the East Valley. Alibi Pool & Bar is beautiful and you're surrounded by 360 views of the Phoenix area skies. The menu at Alibi features street food with a fusion of Asian, Mexican and American cuisines. Favorite thing at the rooftop pool for us is the Filipino Empenadas which feature pork and veggies served with a delicious ginger plum sauce. SO GOOD.
The Golden Pineapple Craft Lounge
2700 S. Mill Ave., Tempe, AZ 85282 | (480) 590-5703
Just south of Downtown Tempe in the Broadmor neighborhood, you'll find cocktail forward concept, Golden Pineapple. Serving up vibrant cocktails and a menu of Baja Mexican-style foods with a Sonoran Desert twist. Have you seen their Tamale fries yet?! Amazing.
Salut Kitchen Bar
1435 E. University Dr., Tempe, AZ 85281 | (480) 625-3600
Made from scratch Mediterranean-American food paired with tasty cocktails, Salut Kitchen Bar is a warm atmosphere that feels cozy and cool. Enjoy bites like their hummus nachos or bruschetta, and sip on their well-mixed cocktails. Their patio is dog-friendly so when the weather permits, bring your cute floof to catch the droppings.
The Porch Tempe
1128 E. Baseline Rd., Tempe, AZ 85283 | (602) 777-1757
This patio is made for fun, which an oversized chair, oversized games, tire swings and a wonderful u-shaped patio wrapping around this restaurant, it's a must enjoy! Perfect for checking out their happy hour or feasting to the nines catching up with your friends. Don't miss their Buffalo Cauliflower for when you're craving wings but healthier or their Forbidden Rice Bowl which is pic-worthy for sure! We also love their Nachos, yummy!
Artichoke Basille's Pizza
1120 E. Baseline Rd. Ste. 105, Tempe, AZ 85283 | (480) 590-5830
Hailing from the streets of New York, come Artichoke Basille's Pizza! Known for their unique pizza toppings, like an Artichoke Pizza.. weird… or their Crab?! Grab pizza by the slice and honestly, try them all. Immediately.
Barrio Queen at Tempe Marketplace
31 S. McClintock Dr., Tempe, AZ 85281 | (480) 912-4052
Incredible food, delicious cocktails and live music? We recently caught mariachis serenading the guests of Barrio Queen Tempe and we loved every minute of it! Talk about elevating your patio experience. Order a Boozy Pop to up your patio game, and stay cool all year long.
Daily Jam
310 S. Mill Ave. #A101, Tempe, AZ 85281 | (480) 968-9288
Breakfast, brunch and lunch on a lovely patio in the heart of Downtown Tempe? Yes please! Walk up and order from the delicious menu offering several classic breakfast items, and some not so classic breakfast items too. Whether you're looking for a quick bite to eat or a sit-down meal with friends, Daily Jam has it all. Order your drinks (alcoholic or not) from the indoor/outdoor bar instead of the counter for less wait time. Open daily from 7 a.m. to 3 p.m.
Morning Squeeze
690 S Mill Ave Suite 110, Tempe, AZ 85281 | (480) 264-4688
This cheery and bright restaurant in Downtown Tempe serves up all the favorites including pancakes, omelets and egg dishes and a full coffee and espresso menu. Their patio offers the perfect window into people watching, and is made very comfortable with refreshing misters. The dog-friendly patio means the whole family can come along. The pups even have their own Tail Wagger menu.
Scramble
1120 E. Baseline Rd., Tempe, AZ 85283 | (480) 534-4044
Be sure to check out Scramble in south Tempe, a quick casual spot on Baseline and Lakeshore Drive, next to Alamo Drafthouse. They use fresh local ingredients and offer lots of vegan and gluten friendly menu items. Diners can enjoy their food on the patio, and sit awhile to relax over their delicious food. Dogs are welcome on their patio, an awesome plus!
Snooze, an A.M. Eatery
615 S. College Ave. #103, Tempe, AZ 85281 | (480) 355-1934
Great food, a roomy patio and a trendy atmosphere make this place a treat every time. At Snooze, guests are tempted by from-scratch menu items such as a choose-your-own flight of fluffy pancakes or house-made breakfast pot pie smothered in rosemary sausage gravy. Open 7 a.m. to 2 p.m. Monday-Friday, and 6:30 a.m. to 2:30 p.m. Saturday-Sunday.
Original Chop Shop Co.
222 E. University Dr., Tempe, AZ 85281 | (480) 307-9336
8738 S. Emerald Dr., Tempe, AZ 85284 | (480) 386-0320
The Original Chop Shop Tempe location has a great outdoor space that is equipped with life-size chess and string light patio dining situated next to ASU Tempe Campus. Whether you're in the mood for a quick protein shake or fresh juice, or you want a yummy sandwich or salad, the Chop Shop has what you need to fuel up and keep it fresh.
Illegal Pete's
525 S. Mill Ave., Tempe, AZ 85281 | (623) 233-4311
Hailing from Denver, Colorado, Illegal Pete's is a fun place with incredible patio space. Knock out several margaritas and delicious burritos all while enjoying their energetic outdoor atmosphere on Mill Avenue. Open Sun.-Wed: 10:30 a.m. to 10 p.m., Thurs.-Sat.: 10:30 a.m. to Midnight. Also, check out their happy hour menu every day from 8-10 p.m.

*The Tempe location is open for patio dining, delivery and window pickup!
Perfect Pear Bistro
603 W. University Dr., Tempe, AZ 85281 | (480) 966-7327
9845 S. Priest Dr., Tempe, AZ 85284 | (480) 247-3410
Serene and beautiful with simple decor, they have a expansive covered patio that you're sure to enjoy. They serve up bountiful sandwiches, salads and pasta dishes and refreshing drinks that are all sure to make your taste buds sing.
Would love to see your photos of you dining safely at these excellent Tempe restaurants? Don't forget to tag us in your photos! @tempetourism or #OurTempe