Tempe's Local Favorites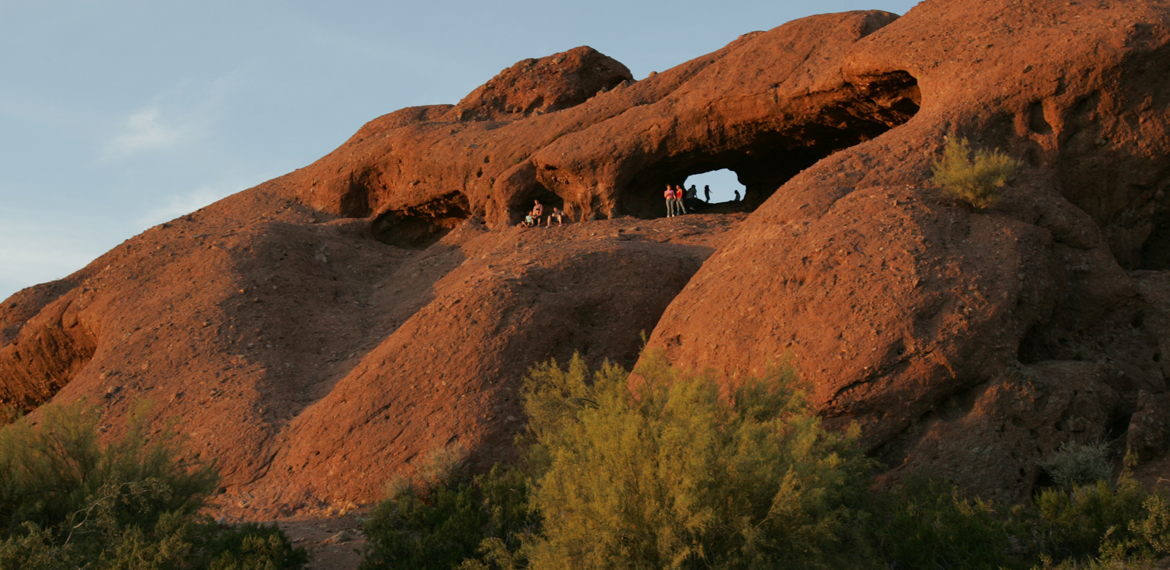 Tempe is full of unexpected moments.
Hike up to Hunt's Tomb in Papago Park. This white pyramid perched on top of a hill is the final resting place of Governor George Wiley Paul Hunt, who set a national record by being elected to the first, second, third, sixth, seventh, eighth and 10th term as Arizona's governor. Also entombed here are his wife, Helen, her parents, the J. W. Ellisons, and her sister, Lena Ellison. From the tomb, visitors have a panoramic view, including Hole-in-the-Rock, another popular hiking destination in the park.
If you're feeling hungry and adventurous, don't miss the rattlesnake appetizer at Rustler's Rooste. And yes, it tastes like chicken.
Fans of alternative rock shouldn't miss the landmarks in Tempe that have been immortalized in song. The Jimmy Eat World song,"If You Don't, Don't," makes reference to meeting at 9th and Ash, which is more commonly known as Casey Moore's Oyster House, a favorite watering hole for locals and tourists alike. Or, ask "Mrs. Rita" to tell your fortune, just like the Gin Blossoms did in the song of the same name.
Taste a bit of Ireland at Rula Bula Irish Pub, where guests can enjoy fish & chips with a cold Guinness on a beautiful ivy lined patio. Or, in south Tempe, indulge in a sweet or savory crepe at The Crepe Bar.
On the ASU Tempe Campus, seek out the "secret garden" in the courtyard of Dixie Gammage Hall. It's a beautiful grassy area with tropical plants and public art – a perfect place to study or just relax.
Taste a lavender latte at a locally owned coffeehouse, Gold Bar Espresso.
See the charming bungalows in the Maple Ash Neighborhood, located west of Mill Avenue south of University. And, take a bike ride along the cross cut canal path at Mill Avenue and Curry to see public art and the desert landscape.